Covering method
Inquiry from customer
Our relaxation massage studio is located near the station. Due to the continuous noises coming through the large glass door, it has been very difficult to provide services in calm atmosphere. It is not a very good idea to increase the volume of music inside.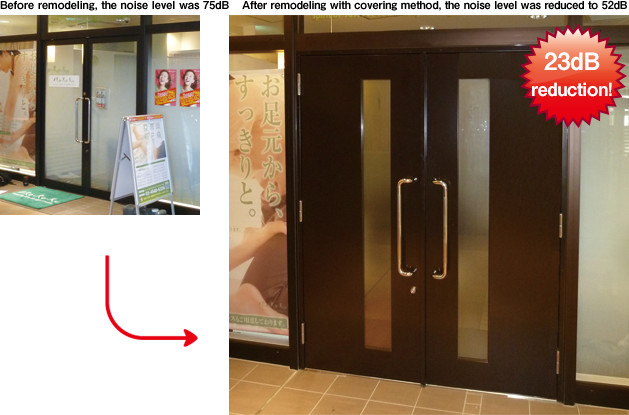 ※Because it was the leased property, the owner's approval was obtained by promising a restoration of the original state upon move-out. The original door was stored elsewhere, and the soundproof doors were installed using the existing door frame.
"The continuous in-coming noise was reduced to the level not so much bothering. We now are able to welcome our customers with calm and relaxed atmosphere."
Overlapping method
Inquiry from customer
The property is used as a café in the daytime and as a club with live music in the night. There have been claims against the big noise in the hallway and the stairs which is generated during the night business. We would like to make improvements without affecting the opening/closing actions of the door during the daytime business.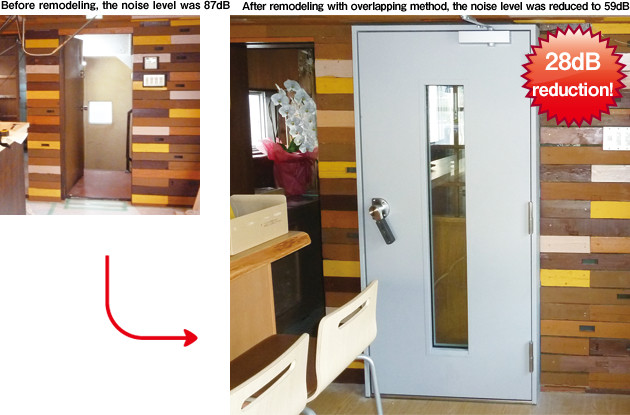 ※Additional door frame was attached inward to install a new soundproof door. The wood door is used during the daytime business leaving the soundproof door open so that it would not block the pathway. The soundproof door is used to prevent noise leakages during the night business.
"We are very happy to have a better sound insulation with little impact to our day business. We called several companies and had a hard time to find one who could satisfy our needs. We feel great to have your company work for the project all the way through.
Replacing method
Inquiry from customer
We are leasing a basement storage of the building to practice musical instruments. Although the upward/downward sound leakages are prevented by thick walls, a quite large music escapes through the double swing door. We have been requested by the building management to control the noise.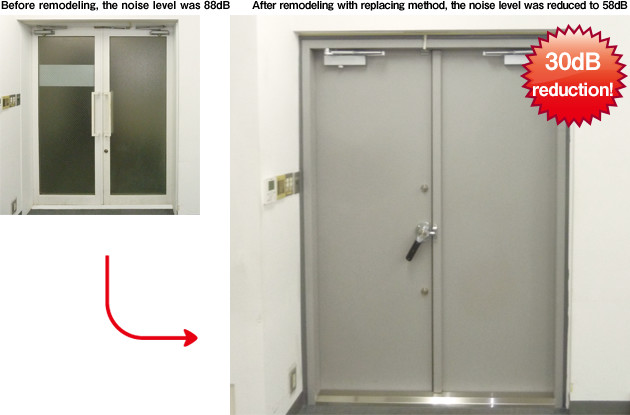 Because the property was quite old and there were some distortions in the door frame, the entire replacement of the door and frame was considered necessary. We dismounted the frame without causing any damage to the wall, and installed soundproof door (double swing type). The old door and frame were disposed by our company.
"Right after the remodeling, we had a practice session in large numbers. The music, which previously reached to the hallway and the restroom, was recognized only when we passed by the door.